CrossFit Uncensored – CrossFit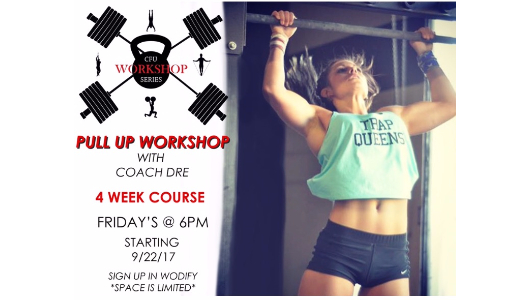 Do you need help learning pull ups? Want to learn how to Kip? Sign up for our workshop starting this Friday!
Warm-up
W2: NO WARM-UP (No Measure)
Start Mobility & Dynamics right away, in order to fit everything in.
Metcon
Metcon (Time)
"Always Remembered"

One partner working at a time, breaking up work as they see fit.
**1 Bear Complex:

Power Clean

Front Squat

Push Press

Back Squat

Push Press
CAT- 1- RX+
Teams of 2: One partner working at a time, breaking up work as they see fit.

2001 Meter Row Buy-In (If rowers are taken do 2.8 miles on airdyne)

~~~then~~~

4 rounds:

9 Rope Climbs

11 Bear Complexes (135/95)

~~~then~~~

2977 Meter Row Cash-Out (If rowers are taken do 4.2 miles on airdyne)
CAT-2 RX
Teams of 2: One partner working at a time, breaking up work as they see fit.

2001 Meter Row Buy-In (If rowers are taken do 2.8 miles on airdyne)

~~~then~~~

4 rounds:

9 Rope Climbs

11 Bear Complexes (115/75)

~~~then~~~

2977 Meter Row Cash-Out (If rowers are taken do 4.2 miles on airdyne)
CAT-3
Teams of 2: One partner working at a time, breaking up work as they see fit.

2001 Meter Row Buy-In(If rowers are taken do 2.8 miles on airdyne)

~~~then~~~

4 rounds:

9 Rope Climbs halfway / 27 progressions

11 Bear Complexes (95/65)

~~~then~~~

2977 Meter Row Cash-Out (If rowers are taken do 4.2 miles on airdyne)
CAT- 4
Teams of 2: One partner working at a time, breaking up work as they see fit.

1000 Meter Row Buy-In (If rowers are taken do 1.4 miles on airdyne)

~~~then~~~

4 rounds:

14 rope climb progressions

11 Bear Complexes (75/55)

~~~then~~~

1600 Meter Row Cash-Out (If rowers are taken do 2.1 miles on airdyne)