CrossFit Uncensored – CrossFit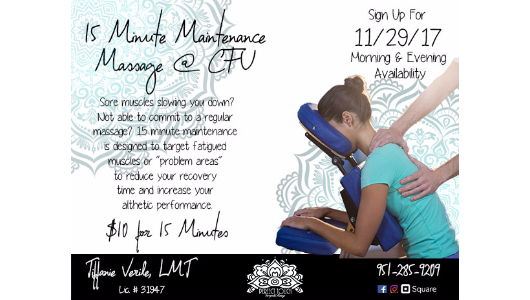 CFU Athlete and Massage Therapist, Tiffanie will be at CFU on November 29th, 2017 from 7am to 9am & from 5pm to 7pm. Sign up in the box if you are interested!
Warm-up
Warm-up (No Measure)
:30 Seconds

Easy Row

Jumping Jacks
Medium Row

Push-up to Down Dog with Foot Pedals
Fast Row

Active Spidermans
Metcon
Metcon (AMRAP – Rounds and Reps)
"Denim"

Choosing a moderate weight on the barbell that athletes could complete with a maximum of 1 break on each round within the workout. If unable to row, complete one of the following:
30/21 Calorie Assault

400 Meter Run
CAT- 2
AMRAP 15:

60 Double Unders

30/21 Calorie Row

15 Overhead Squats (115/85)

* 3 Round Qualifier. Get 3 rounds or lose the RX!
CAT- 3
AMRAP 15:

120 Single Unders

30/21 Calorie Row

15 Overhead Squats (95/65)
CAT- 4
AMRAP 15:

60 Single Unders

20/15 Calorie Row

15 Overhead Squats (PVC Pipe. Work on Form!)