CrossFit Uncensored – CrossFit
Whiteboard Brief
Warm-up (No Measure)
Whiteboard Brief (0:00 – 3:00)

– Strength: Build to a 1RM shoulder press in 6-7 sets. Have a plan in place to make logical jumps in

weight. It's easy to fail too soon with a small movement like a shoulder press so make sure you take

your time. Try to beat your previous 1RM by 5#s

– Metcon: Each set we are looking for about 75% effort meaning your run should be a smooth jog, Pullups

completed in 2 sets or less and Push-ups completed UB. You should have at least 90s of rest after

each set. Record all your splits, score will be your slowest split.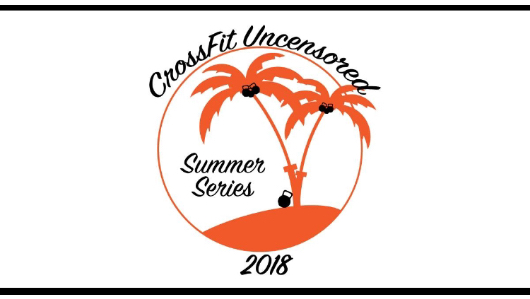 It's down to the final days to register!!
Warm-up
Warm-up (No Measure)
Warm Up/Mobility (3:00 – 15:00)

Foam Roll Lats x 30s each then,

2 Rounds of:

5 Hang Muscle Cleans

5 Shoulder Press

5 Barbell Curls

5 Bent-over rows

5 Yoga Push-ups

Rest 40-60s, add light weight.

Then,

Spend 5:00 Reviewing Pull-ups
Strength
Shoulder Press: 1RM
Strength (15:00 – 30:00)

1a) Shoulder Press: 1RM. Rest 2:00

– build to a 1-Rep max over the course of 6-7 sets.

– Beginner: 5 x 5, adding light weight per set. Rest 2:00

1b) Banded Pull-apart: Complete 20-25 reps between sets of shoulder press for extra upper-back work.

2) Metcon Prep: Set-up Pull-up Scaling
Metcon
Metcon (Time)
Metcon (30:00 – 55:00)

"Backpeddle"
Every 5:00 x 5 Sets:

Run 400 Meters

12 C2B Pull-ups

20/16 Hand Release Push-ups

*Score = slowest split
CAT-1 As prescribed

CAT- 2 (Pull-ups)

CAT- 3 (Band Assisted Pull-ups) (Box Push-ups)

CAT- 4 (200-300m Run) (Ring Rows) (Box Push-ups)

*Score = slowest split
Extra Credit
Warm-up (No Measure)
Abs

Straight Leg Sit-ups w. DB on chest: 4 x 10-15. Rest 60s.

*If needed have a partner hold your feet.

https://www.youtube.com/watch?v=WaggA451i1U